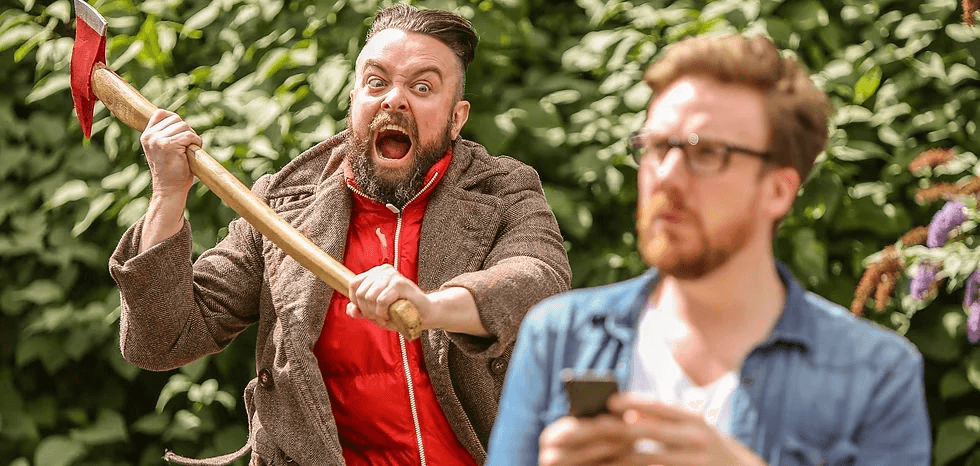 CHESTERBERG: MAKE MURDER LEGAL

Dir: Jamie KcKeller. Starring: Natalie-Clare Brimicombe, Paul Coulter, Andrew Lee Potts UK (2020) 90mins

Chester Mapleforth was exhausted by the modern world. Too much noise and stress. Too many things constantly beeping and ringing. After inventing the underwater post-it notes in the late 1980s, a sudden wealth allows him to buy his little cul-de-sac and emancipate it away from the United Kingdom; enabling him to create his own country, and his own laws. So what's the first law he passes: make murder legal. And now a documentary crew are trying to capture
We couldn't think of a more perfect way to round out our first Sohome Horror Festival than reminding everyone the simple pleasures of a homegrown horror comedy. Like fusing The Office with early Peter Jackson, prepare to laugh until your sides split as director Jamie McKeller brings us the Great British Slay Off.
Screening with NEST
Dir: Brennan Gilpatrick & Erin Walsh. Starring USA (2019) 2mins
Check your references next time you book through Air BnB...
+ ALLERGIC OVERREACTION
Dir: Zachary Eglinton, Starring: Ace Marrero, Matt Mercer, Andrew Nathaniel Morris. USA (2019) 14mins
What, you *really* thought we could go through a Soho Horror Fest event without a film starring unofficial festival patron saint Matt Mercer? And this one's a real gutbuster as friends come together for their annual Friday 13th marathon, but forget that one of them is allergic to peanuts...